Petition on The "War on Drugs"

The Institute of the Black World 21st Century Declares War
On The "War on Drugs"
A Petition to Recruit an Army of Advocates and Organizers To End a Failed Strategy and Create Just and Humane Alternatives
---
The Battleground
The "War on Drugs" is a War on Black People!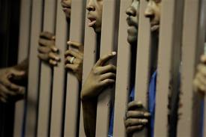 Forty-two years after President Richard M. Nixon declared a "War on Drugs" under the guise of halting trafficking in drugs in the United States,the evidence is clear: The War on Drugs has been a "war on us," a politically motivated, racially biased strategy which has disproportionately targeted African Americans and other people of color. The unwarranted mass incarceration of millions of mostly young Black males has disrupted families, decimated communities and rendered America´s "dark ghettos" zones of desperation, desolation and despair – neighborhoods where persistent poverty, unemployment, underemployment, inferior education, crime, violence and fratricide abound – conditions borne of decades of blatant neglect of the social and economic needs and unfulfilled aspirations of urban inner-city residents. It must be understood that the "War on Drugs" was a choice, a policy decision to utilize "zero tolerance," paramilitary policing strategies, "get tough" laws and mandatory sentencing to pacify "out of control" Black communities, rather than focus on social, racial and economic justice.
e results have been nothing less than disastrous
African Americans make up an estimated 15% of drug users, but account for 37% of those arrested on drug charges, 59% of those convicted and 74% of all drug offenders sentenced to prison.Federal prison sentences for Blacks averaged 41% longer than those of Whites.